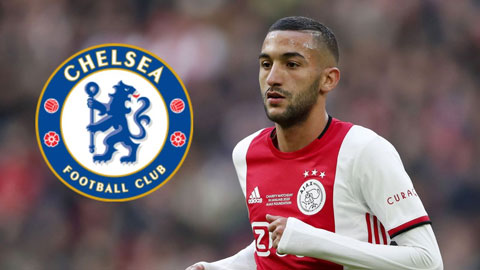 Lịch thi đấu, Kết quả, BXH Premier League
Cụ thể, đôi bên đã đạt thỏa thuận chuyển nhượng với mức phí 45 triệu euro (40 triệu bảng). Điều khoản cá nhân giữa Chelsea và Ziyech chưa được tiết lộ nhưng với việc thực hiện bước quan trọng nhất là đạt thỏa thuận với Ajax, The Blues 99% sẽ có sự phục vụ của tiền đạo 26 tuổi người Morocco sau khi mùa giải này kết thúc.
Ziyech là một trong những trụ cột của Ajax, bên cạnh những ngôi sao gốc Hà Lan như Frenkie De Jong, De Ligt hay Van de Beek, đã tạo nên bất ngờ lớn nhất tại Champions League 2018/19, với thành tích lọt vào tới tận bán kết cùng lối chơi tấn công rực lửa và khoáng đạt.
Mùa này, Ziyech vẫn duy trì được phong độ rất ổn định. Sau 18 lần ra sân tại giải VĐQG Hà Lan, cầu thủ chạy cánh này đã ghi được 6 bàn thắng và thực hiện 13 pha kiến tạo. Tiền đạo người Morocco là mẫu cầu thủ có lối chơi kỹ thuật, tốc độ và sở trường là thi đấu ở vị trí tiền đạo cánh trong sơ đồ 3 tiền đạo.
Vì vậy, Ziyech là sự bổ sung cần thiết cho HLV Frank Lampard trong bối cảnh Chelsea đang rất thiếu tiền đạo cánh đẳng cấp. Sau sự ra đi của Hazard, The Blues chưa tìm được sự thay thế tương xứng. Không những thế Willian và Pedro khả năng cao đều ra đi sau khi mùa giải này khép lại.
XEM THÊM
Ighalo có thể ra sân ở đại chiến với Chelsea dù chưa tập buổi nào cùng M.U
Siêu máy tính dự đoán Liverpool vô địch kỷ lục, M.U, Tottenham và Arsenal không vào top 6
Fan M.U phát cuồng khi thấy Pochettino trò chuyện cùng cố vấn của Woodward