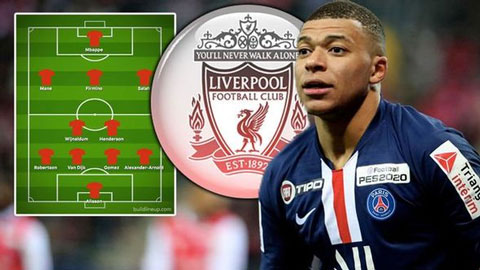 Lịch thi đấu, Kết quả, BXH Premier League
Mbappe là một trong những ngôi sao sáng giá nhất của bóng đá thế giới đương đại. Tuy mới 21 tuổi nhưng Mbappe đã đầu quân cho PSG với bản hợp đồng trị giá lên tới 180 triệu euro và liên tiếp duy trì hiệu suất ghi bàn khủng khiếp trong 4 năm qua. Mùa trước, thần đồng người Pháp ghi 39 bàn sau 43 trận. Mùa này, sau 28 trận anh cũng đã ghi 24 bàn.
Bởi vậy, mặc dù đang khoác áo đội bóng thuộc dạng trọc phú, Mbappe vẫn nằm trong tầm ngắm của hàng loạt ông lớn. Trước là Real Madrid và hiện tại là Liverpool. Theo El Desmarque, Liverpool thậm chí đã đưa ra đề nghị hỏi mua Mbappe với PSG, trong bối cảnh cầu thủ này chỉ còn hợp đồng đến năm 2022.
Không hào nhoáng như Real nhưng Liverpool chắc chắn là lựa chọn hấp dẫn bậc nhất dành cho Mbappe. The Kop đang trở thành một thế lực thống trị thực sự không chỉ tại Anh mà trên toàn cõi châu Âu trong vòng 7 tháng qua, khi lần lượt giành danh hiệu Champions League, Siêu cúp châu Âu, FIFA Club World Cup và thống trị tuyệt đối Ngoại hạng Anh mùa này.
Hiện tại trên hàng công Liverpool đang sở hữu bộ ba MSF (Mane-Salah-Firmino) thi đấu rất hiệu quả, đáp ứng được các yêu cầu đồng bộ, hài hòa, ăn ý lẫn đẳng cấp. Tuy nhiên, nếu có được Mbappe, The Kop sẽ có được sự chuẩn bị cho tương lai lâu dài, tương tự thành công Barca có với Messi hay Real có với Ronaldo.
XEM THÊM
'Chỉ 1 cầu thủ Liverpool chen được chân vào đội hình ăn 3 của M.U'
Gerard Houllier, người khôi phục niềm tự hào Liverpool