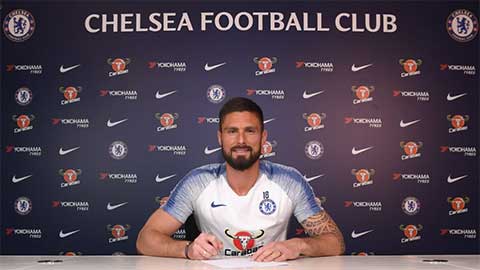 Nhà ĐKVĐ thế giới gia nhập Chelsea hồi tháng Giêng 2018 từ Arsenal và cho tới nay đã ghi 17 bàn sau 62 lần ra sân cho CLB. Mùa này, Giroud chơi không quá nổi bật ở
Premier League
, song lại đặc biệt xuất sắc ở
Europa League
với 10 pha lập công, qua đó giúp The Blues vào chung kết gặp Arsenal tại Baku, Azerbaijan vào ngày 29/5 tới.
Nhờ màn thể hiện xuất sắc ở đấu trường châu Âu, Giroud đã được Chelsea tưởng thưởng bằng việc gia hạn hợp đồng thêm 1 năm. Trước đó, chân sút 32 tuổi chỉ còn giao kèo với The Blues tới cuối tháng 6 này. 
Chia sẻ trong buổi lễ ký kết hợp đồng, Giroud không giấu nổi sự vui mừng: "Tôi rất hạnh phúc khi được ký hơp đồng mới với CLB. Tôi thực sự rất muốn được cống hiến cho đội bóng thêm ít nhất 1 năm nữa. Kể từ khi gia nhập Chelsea, tôi cảm thấy đây giống như một gia đình vậy và hi vọng CLB sẽ gặt hái được nhiều danh hiệu".
Giám đốc Marina Granovskaia nói thêm: "Chúng tôi rất vui vì Olivier sẽ là cầu thủ của Chelsea thêm một mùa giải nữa. Kể từ khi đến đội bóng 18 tháng trước, anh ấy đã phải nhiều lần kiên nhẫn chờ đợi cơ hội. Tuy nhiên, Olivier vẫn có những đóng góp tích cực cho đội bóng. Anh ấy đã ghi 10 bàn ở Europa League mùa này và giúp Chelsea vào chung kết. Hi vọng, Olivier có thể đoạt danh hiệu thứ 2 cùng Chelsea sau chức vô địch FA Cup năm ngoái".