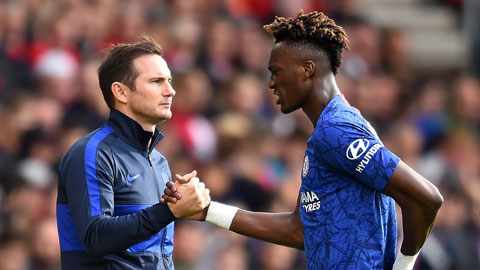 Lịch thi đấu, Kết quả, BXH Premier League
"Mỗi lần nhìn lên TV, tôi lại thấy một tân binh cập bến Premier League. Đó mới là mùa chuyển nhượng. M.U, Sheffield hay Tottenham đều đón chào những tân binh chất lượng. Dù Chelsea đang đứng thứ 4 trên BXH, nhưng chúng tôi đã trở thành cửa dưới so với các CLB đã shopping mạnh mẽ", vị thuyền trưởng The Blues than thở.
Chelsea đã lên kế hoạch tăng cường hàng công với hai mục tiêu Edinson Cavani (PSG) và Dries Mertens (Napoli). Song rốt cuộc cả hai đều không cập bến Stamford Bridge. Hàng công trở thành nỗi lo lớn nhất của Lampard trong bối cảnh tiền đạo chủ lực Tammy Abraham chưa bình phục chấn thương. Chelsea giờ chỉ biết trông vào Michy Batshuayi, người mới có 1 bàn thắng sau 14 lần ra sân tại Premier League mùa này.
Lực lượng nhân sự mong manh khiến Lampard quyết định giữ lại Olivier Giroud dù tiền đạo người Pháp công khai đòi rời Chelsea. Khi một đội bóng cần đến sự phục vụ của một cầu thủ đã hết khát khao cống hiến, đó là một thất bại toàn tập. Nhưng Lampard không biết làm cách nào khác khi lực lượng tấn công quá mỏng.
Thành tích của Chelsea đang có dấu hiệu đi xuống, họ đã không thắng 4/5 vòng đấu gần đây. Vậy nhưng The Blues lại chẳng thể mang về một bản hợp đồng mới nào trong kỳ chuyển nhượng mùa Đông. Nửa sau mùa giải sẽ là lúc Lampard phải nhận hậu quả từ mùa chuyển nhượng thất bại.
XEM THÊM
Tất tần tật chuyển nhượng mùa Đông 2020 ở Ngoại hạng Anh
Bỏ qua M.U và Tottenham, Piatek chọn bến đỗ không ai nghĩ tới
Bất chấp dịch virus corona, M.U vẫn chiêu mộ tiền đạo tới từ Trung Quốc