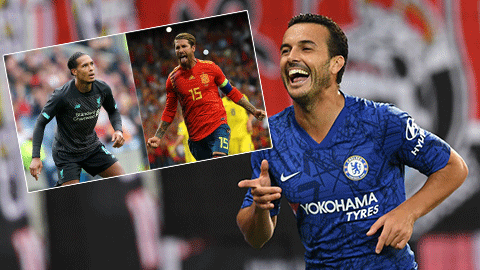 Liverpool và Chelsea sẽ đối đầu nhau ở trận tranh Siêu Cúp châu Âu 2019 diễn ra vào rạng sáng ngày 15/8. Trong khi The Kop là nhà vô địch Champions League 2018/19 thì The Blues cũng vừa đăng quang tại Europa League mùa giải trước.
Van Dijk
chính là một trong những trụ cột mang lại thành công cho Liverpool thời gian qua. Trung vệ này đã được bầu chọn là Cầu thủ xuất sắc nhất năm của PFA và đang là ứng viến hàng đầu cho danh hiệu Quả bóng vàng. Trước trận đại chiến, tiền đạo Pedro đã có những chia sẻ đầy lý thú về hậu vệ người Hà Lan.
"Van Dijk cũng giống với Sergio Ramos. Họ là những trung vệ xuất sắc nhất thế giới thời điểm hiện tại", Pedro nói. "2 người đều rất mạnh mẽ, có khả năng xử lý bóng hoàn hảo, rất giỏi trong không chiến và ghi bàn. Van Dijk đã có một mùa giải trước đầy thăng hoa. Anh ấy đã giúp Liverpool giành chức vô địch Champions League và là cầu thủ xuất sắc nhất tại Premier League. Van Dijk đang ở đỉnh cao của sự nghiệp".
"Thật tốt khi giành được 1 danh hiệu ngay đầu mùa giải. Liverpool là một đội bóng mạnh với những cầu thủ tuyệt vời. Chúng tôi cần tập trung trong cả trận và tận dụng thật tốt những cơ hội".
"Đây là trận Siêu Cúp châu Âu thứ 4 của tôi. Tôi đã may mắn chiến thắng cả 3 trận trước đó. Trận đấu gần nhất (năm 2015) là kỷ niệm mà tôi nhớ nhất. Điều quan trọng là cần phải giữ được sự mạnh mẽ và tự tin", anh nói thêm.
Pedro ghi bàn kiểu bọ cạp đẹp không tưởng vào lưới Salzburg