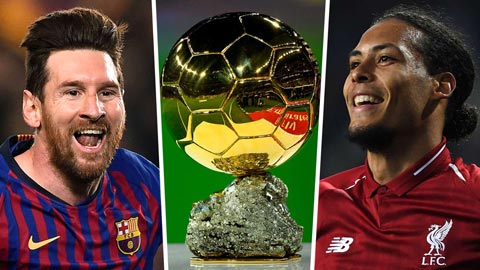 Cuộc chiến giành danh hiệu cá nhân cao quý nhất này gần như chỉ là cuộc đua giữa Messi và Van Dijk. Trung vệ người Hà Lan đã giành giải Cầu thủ xuất sắc nhất năm của UEFA trong khi siêu sao người Argentina "ẵm" FIFA The Best.
Murphy cho rằng Van Dijk xứng đáng là người chiến thắng bởi những tác động to lớn của anh trong hành trình đăng quang Champions League 2018/19 và đua tranh chức vô địch Premier League của Liverpool.
"Tôi tin rằng vì những tác động mà anh ấy đã tạo ra tại Liverpool, Van Dijk nên được trao giải Quả bóng vàng 2019", Murphy cho biết. "Anh ấy đã giúp các hậu vệ của Liverpool trưởng thành một cách đáng kinh ngạc".
"Tất nhiên thành công của Liverpool có sự đóng góp của nhiều ngôi sao những ảnh hưởng to lớn nhất chắc chắn phải thuộc về Van Dijk. Liverpool có thể thay thế Salah hay Mane bằng những cầu thủ tấn công khác nhưng không có lựa chọn để thay Van Dijk"
"Messi vẫn phi thường như mọi khi nhưng cậu ấy không thể giúp Barca vô địch Champions League, danh hiệu quan trọng nhất mùa giải", cựu cầu thủ của Liverpool nói thêm.