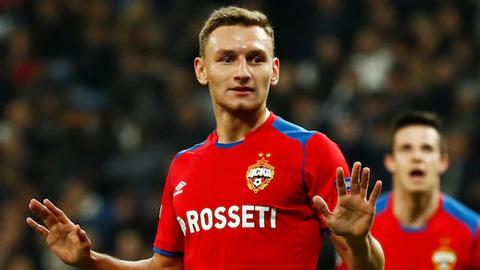 Tờ Sky Sport cho biết, Chelsea đang nhắm tới tiền đạo Chalov của CSKA Moscow, chân sút từng được Arsenal, Liverpool và Manchester United liên hệ. Không những thế, Chalov còn là cầu thủ mà Roman Abramovic, ông chủ của The Blues rất ưa thích.
Tuy nhiên, vấn đề là Chelsea đang bị cấm chuyển nhượng do án phạt của FIFA. Vì án phạt này, The Blues đã không thể mua sắm trong kỳ chuyển nhượng mùa Hè 2019 và phải tận dụng triệt để các tài năng trẻ trưởng thành từ lò đào tạo của đội bóng.
Tất nhiên, điều này lại giúp Chelsea phát hiện được những sao mai hứa hẹn như Tammy Abraham, Mason Mount hay Fikayo Tomori. Dù vậy, Chelsea vẫn đang nỗ lực kháng cáo để có thể tham gia mua sắm cầu thủ trong kỳ chuyển nhượng mùa Đông 2020.
Và như đã đề cập, mục tiêu của The Blues là Chalov. Chân sút này đã có 5 bàn thắng cho CSKA tại giải Ngoại hạng Anh mùa này. Ở tuổi 21, anh được xem là tương lai của bóng đá xứ sở bạch dương và thu hút nhiều ông lớn theo đuổi.
Chalov trưởng thành từ chính lò đào tạo của CSKA và mùa trước đã đoạt danh hiệu Vua phá lưới Ngoại hạng Nga với 15 bàn thắng. Ngoài ra, Chalov còn đóng góp thêm 7 pha kiến tạo, qua đó cho thấy sự toàn diện. Tiền đạo này còn hợp đồng với CSKA đến tháng 6/2022.