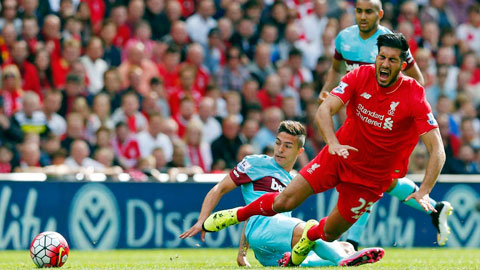 *BongdaPlus tường thuật trận đấu này từ 18h45 ngày 2/1
Trận thua tan tác 0-3 trước West Ham
ngay trên sân nhà hôm 29/8/2015 chính là một trong những thất bại xấu mặt nhất của Liverpool mùa bóng này. Ngày hôm đó, tờ Daily Mail viết đầy chua chát: "Lần gần nhất Liverpool thua trên sân nhà trước West Ham, ban nhạc The Beatles vẫn đang dẫn đầu trên các BXH âm nhạc, BBC còn chưa phát chương trình Match of the Day". Cụ thể hơn, West Ham phải chờ tới… 52 năm mới thắng nổi một trận tại Anfield.
Hôm nay gặp lại,
Liverpool hẳn rất muốn đòi món nợ cay đắng này
. Tuy nhiên, đây lại không phải là thời điểm thích hợp để đòi nợ West Ham - đội bóng được mệnh danh là "sát thủ" của những ông lớn mùa này. West Ham chỉ thiếu duy nhất chiến thắng trước Man United là trở thành CLB đầu tiên trong lịch sử đánh bại toàn bộ Big Five trong giai đoạn lượt đi của mùa bóng.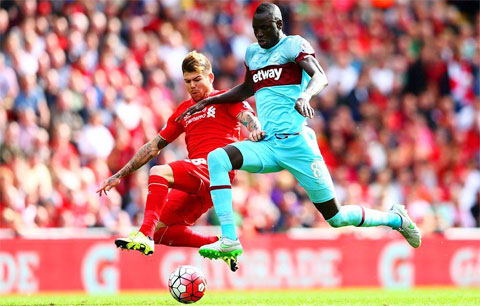 Cho dù 2 chiến thắng liên tiếp trong thời gian qua đã phần nào xua tan bầu không khí u ám tại Anfield, nhưng đó chỉ là những chiến thắng nghèo nàn 1-0. Nhưng quan trọng hơn, The Kop sẽ bước vào trận đấu này với tổng cộng 7 ca chấn thương khác nhau, trong đó sự vắng mặt của James Milner, Martin Skrtel, Daniel Sturridge, Divock Origi chắc chắn sẽ khiến HLV Juergen Klopp đau đầu vì bài toán nhân sự.
West Ham:
Adrian; Jenkinson, Tomkins, Ogbonna, Cresswell; Song, Kouyate, Antonio, Payet, Lanzini; Carroll.
Liverpool:
Mignolet; Clyne, Lovren, Sakho, Moreno; Can, Lucas; Lallana, Coutinho, Firmino; Benteke.
5/6 trận gần đây của West Ham chỉ có tối đa 2 bàn thắng được ghi. 4/6 trận vừa qua của Liverpool cũng không có quá 2 lần lưới rung. Xu thế này nhiều khả năng sẽ tái diễn.